Please fill out the details
we will get in touch
The Perfect Garden is no Longer Just a Dream with Our Gardeners Maida Vale on Hand
If you would love to have the ideal garden in Maida Vale but with none of the painstaking, backbreaking effort it can actually take to get it, then call on Gardeners Maida Vale! We genuinely love providing reliable gardening services, and we can perform regular garden maintenance at incredible prices too. Throughout the W9 area, we've been helping people achieve their dream garden with landscape gardening and planting. We can even offer regular maintenance services, all provided for by our highly skilled and experienced professionals. Wherever you are in the region, and whatever the size of your garden, we can help.
Hire Maida Vale Gardeners and Your Garden will Never Look Disastrous Again!
Never worry again about whether your garden will fall into disrepair. If you live in the W9 region, we can provide you with a regular upkeep service to ensure that your flowerbeds, grass and patios stay in peak condition throughout the year. We can offer great long term deals on our maintenance packages as well. These can include grass cutting, patio cleaning or weed control to maintain your garden throughout the seasons. Our gardeners W9 are on hand to regularly pop in and take care of whatever your garden needs.
Choose Gardeners Service in Maida Vale W9 and Get the Care that Your Garden Deserves?
If you've got an incredibly busy household, it can be tricky to really spend time on the garden. Some people shy away from hiring professional gardeners in Maida Vale, W9, thinking them to be expensive and luxurious. However, we believe in bringing top quality expert services at affordable prices that won't break the bank. We can offer a huge range of affordable services. Don't be shy to give us a call. We can discuss your budget and what you'd like to have done on your garden today.
Our Gardeners Maida Vale will Make Your Outdoor Space Wildlife Friendly
Our gardens in the W9 area can often be super highways for the myriad of wildlife that passes through them every day. Whilst many of these creatures and insects can be highly beneficial, and therefore welcome in our gardens, some can often leave behind a great mess! That's why, our Maida Vale gardeners have been working with garden owners to offer garden tidy up, cleaning up lawns, flowerbeds and patios. If you'd like us to entirely rethink your garden, then we will be more than happy to offer landscape gardening too.
Prepare for the Summer Months with the Help of Our Gardeners W9
It's never too soon to start thinking about preparing your garden for the summer! Think of all the BBQs and parties! If you need to start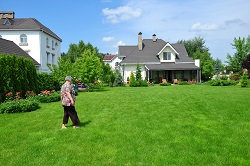 some garden tidy up and lawn repair before those summer months arrive in Maida Vale, then get in touch. We have Maida Vale gardeners W9 available all year round. They can offer quality landscape design services or even far simpler things such as general maintenance or planting. Whatever your plans are for the summer, start thinking now about how you are going to make the most of your garden.
Get Affordable Help Provided by Expert Gardeners Maida Vale
You're not going to find a more diverse or affordable gardening service in the W9 district than our company can offer you. How do we know? Because our customers tell us so! Our clients return to us again and again to hire our landscape gardening teams or simply to book regular lawn mowing sessions. Simply call Gardeners Maida Vale today to learn more about our services.
testimonials
what customers say
You should certainly use Gardening Company Maida Vale if you need patio cleaning. I can't fault them at all and love how my patio looks.
Claire Daley
Quite a few people in my community use their lawn care service. They always speak very highly of the gardeners. I will be using them regularly, they are fantastic at what they do.
Nate U.
The gardeners are all so kind, courteous, helpful and hard working. Gardening Company Maida Vale is highly recommended!
Carl M.
Superb gardeners! Really really happy with the landscaping that Gardening Company Maida Vale did for my Dad. Will be using them myself very soon.
Andy Corden
Their lawn care service is absolutely the best in town, Lawn Mowing Maida Vale have the best prices around!
Kate Jones
My hedges look great! Hedges trimmed to perfection! Thanks Landscaping Companies Maida Vale! will hired them again for hedge pruning!
Theresa Ledbetter
Garden Design Maida Vale did a really good job with my leaf clearance. They collected the debris very quickly and didn't leave anything behind. Then it was all disposed of for me in an eco-friendly way. Thank you for saving me so much...
Luke Greggs
I needed a cheap yet professional service to get my entertaining area ready for the summer. I called GardenersMaidaVale, enquired about their patio cleaning service, and instantly it made sense. The price I was quoted for the job is what...
Leah R.
There was an element of ease and simplicity about the way their team went to work in my garden. They completed everything quickly but more importantly, they completed everything perfectly and to a high standard. The service was highly...
Arrianna R.
Lawn Mowing Maida Vale are the best gardening team I've ever worked with. They ensured that my garden was healthy by banishing all weeds. They worked hard over a couple of ours to safely and properly get rid of every weed in my garden....
Stefan Canellas